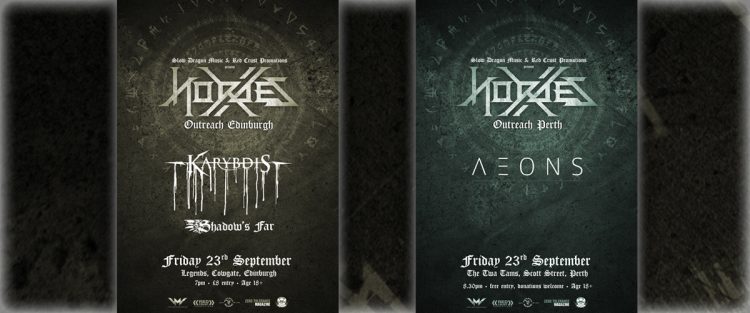 Hordes X Outreach 2022
---
Since rebranding from Hordes Of Belial, Hordes X has been used as the centre point of a few extra Scottish dates for some of the bands appearing. We call these the "Outreach shows".
The concept is that, when a band comes from other regions to play Hordes X, we make it more worth their journey, but while still keeping the Hordes banner flying high. This year, venue options have been a little tighter than usual, but we have still managed to send our emissaries out to wreak havoc.
---
Our second stage headliners, Karybdis head out to Edinburgh, with the assistance of Red Crust Promotions. Taking in a stop at Legends, they will be joined by Switzerland's Shadow's Far – who also play Dundee – plus two more acts, yet to be announced.
---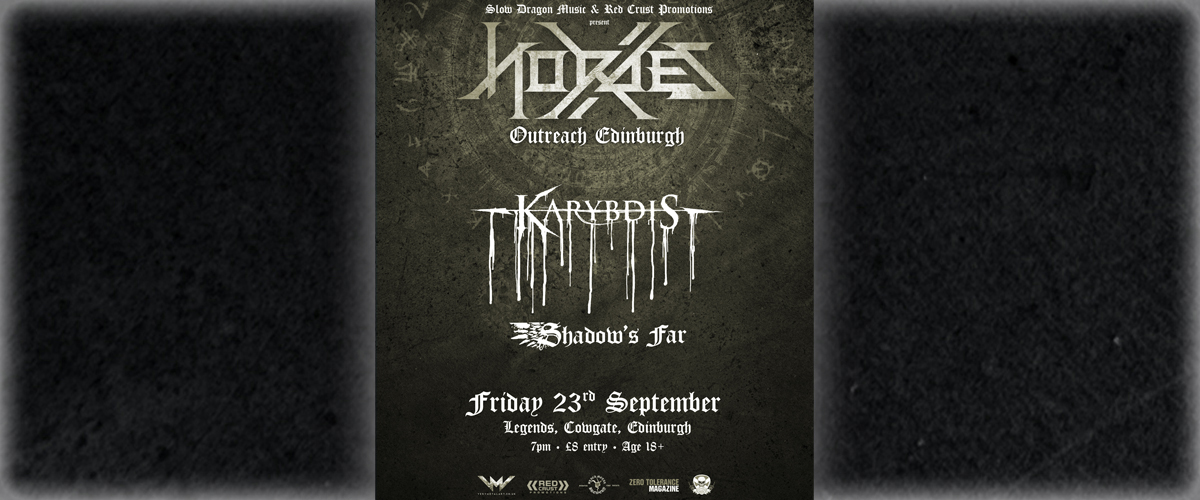 ---
Meanwhile, in Perth, we are hosting a special warm-up show. Our usual Neckwrecker venue will be dedicated to Hordes X for one evening. From the main Dundee event, Isle Of Man progressive metallers, Aeons, will be laying down the riffs, and joined by two more bands.
---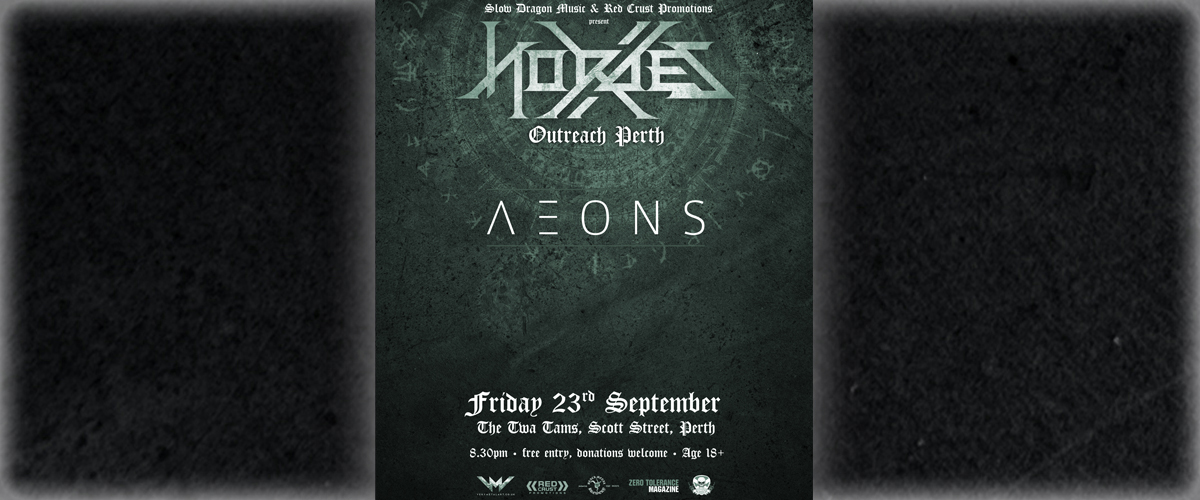 ---
We are still working on the final band additions. Hell, there might even be more shows! All shall become apparent in due course, so you'll just have to keep in contact with Slow Dragon Music! In the meantime, why not check out some more about the bands hitting the main event in Dundee, in our launch article, and complete lineup announcement?
---
Event details:
---
Hordes X 2022: Outreach – Edinburgh
Venue: Legends, Cowgate, Edinburgh
Date: Friday September 23rd
Doors: 7pm
Ages: 18+
Entry: £8
Artists: Karybdis, Shadow's Far, +2TBC
Ticket link: https://www.eventbrite.co.uk/e/hordes-outreach-edinburgh-tickets-405812364707
Facebook event page: https://www.facebook.com/events/773741837005353
---
Hordes X 2022: Outreach – Perth
Venue: The Twa Tams, Scott St, Perth
Date: Friday September 23rd
Doors: 8:30pm
Ages: 18+
Entry: FREE
Artists: Aeons, +2TBC
Stream link: Coming soon
Facebook event page: https://www.facebook.com/events/679771283416892/
---
Event details
Hordes X 2022
Venue: Beat Generator Live, N Lindsay St, Dundee
Date: Saturday September 24th
Doors: 3pm
Ages: 14+
Entry: £25
Artists: Saor, Karybdis, Catalysis, Drekavac, Shadow's Far, Volcano X, Aeons, H8teball, Bloodthread, Nocturne Wulf, Extort, Primitive Vices, Alpha Signal
Ticket link: http://t-s.co/hord5
Facebook event page: https://m.facebook.com/events/398016725067653/
---
READ MORE ABOUT HORDES X ON SLOW DRAGON MUSIC
---