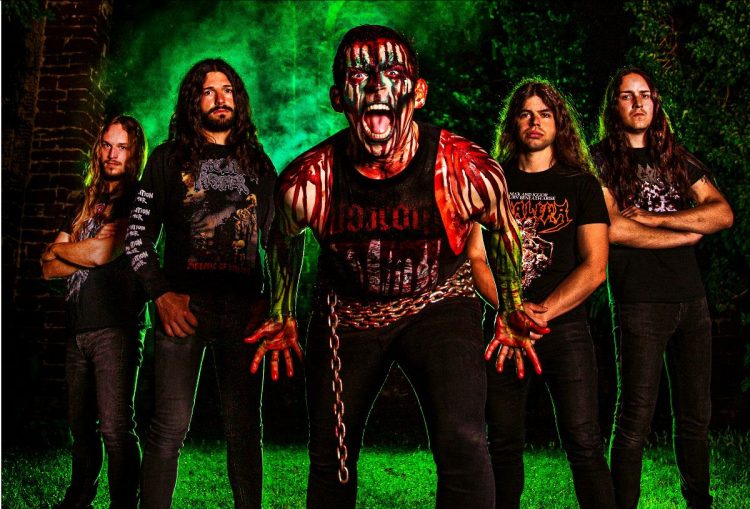 Dragon Fire: Carnation – Stench Of Death new track
---
Dragon Fire is Slow Dragon Music's irregular news roundup, filled with flaming chunks of fleshy goodness!
---
This somehow slipped under our radar for a few days, but Carnation have unleashed a brutal new track. Stench Of Death is a real "short drop, and a sudden stop" at just 1 minute 59 seconds. That's all it needs, though, smashing you right in the ears with instantaneous death metal. Check out the video below, and keep an eye out for the upcoming EP of the same name. It's due out June 10th on digital platforms, with a red vinyl also coming, on Season Of Mist.
---
---
JOIN THE DISCUSSION ON THE SLOW DRAGON MUSIC DISCORD SERVER
---
Carnation – Stench Of Death new track
---
Frontman Simon Duson comments:
"We are back with full force to present you our newest track, bursting with relentless aggression! 'Stench of Death' is our personal antidote to the events of the past two years. It is the sonic embodiment of our unwavering determination to push forward. This new track will be released digitally, and on a limited 7" Vinyl. Side B will contain our rendition of Entombed's 'Supposed to Rot', a cover we have been performing live for many years… Cheers LG, R.I.P.! Fuelled with this renewed vigor, we are once again ready to strike across the European mainland during the upcoming months. Embrace it, the Stench of Death!"
.CARNATION's latest album 'Where Death Lies' was released on September 18, 2020 and can be heard in full HERE! The cover artwork and further album details can be found below.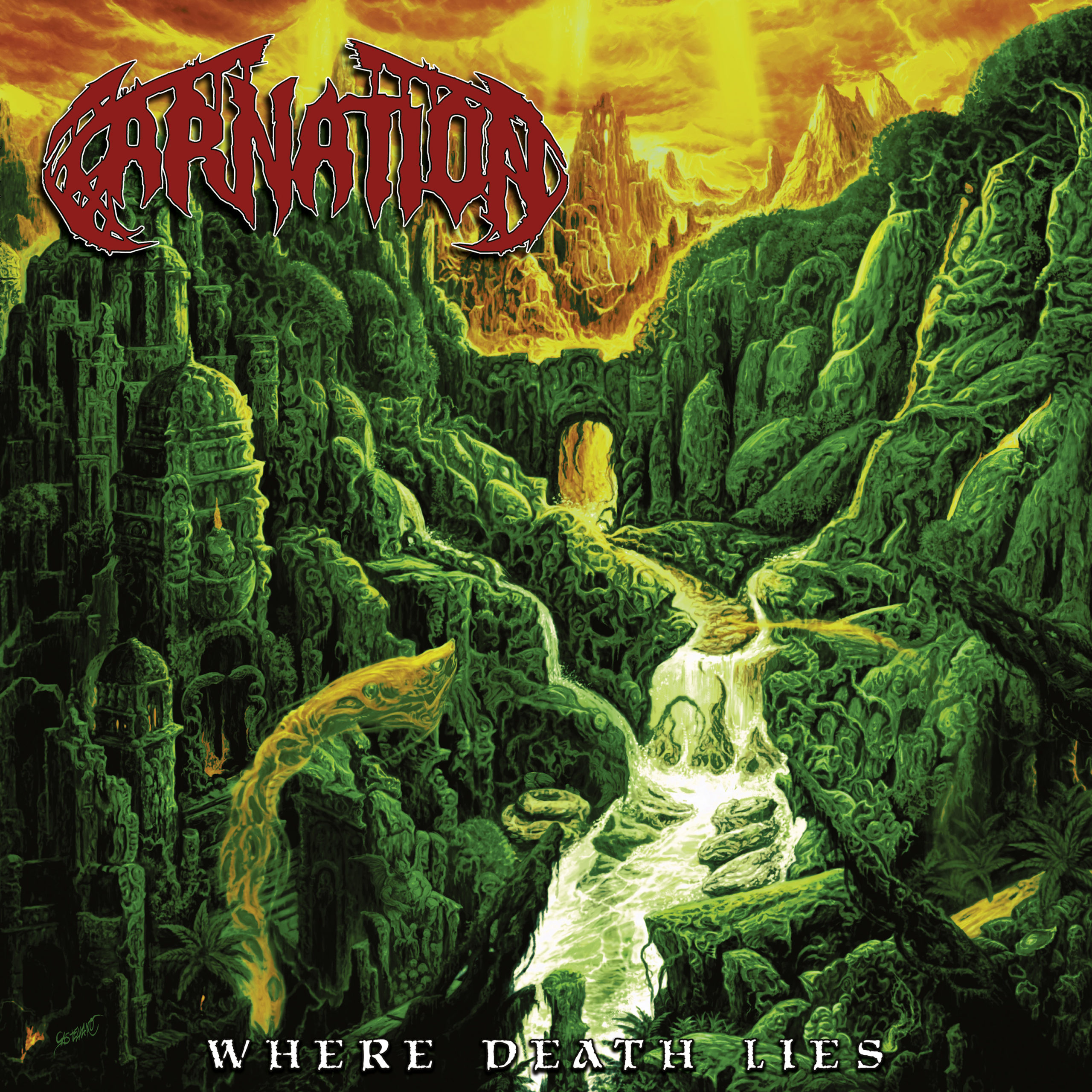 Carnation Where Death Lies
Track-list
1. Iron Discipline (3:52) (WATCH)
2. Sepulcher of Alteration (4:22) (WATCH)
3. Where Death Lies (3:26) (WATCH)
4. Spirit Excision (3:46)
5. Napalm Ascension (4:09)
6. Serpent's Breath (4:47)
7. Malformed Regrowth (3:09)
8. Reincarnation (5:24)
9. In Chasms Abysmal (7:39)
Total playing time: 40:34
Embrace the new death metal overlords and their second full length 'Where Death Lies'! CARNATION equals blistering and crushing death metal madness and, with this new chapter, return with relentless destruction and greater punishment than ever before.
Early 2013, guitar player Jonathan Verstrepen created the band to show his appreciation for the old school death metal legends from the '80s & early '90s. Vocalist Simon Duson, bass player Yarne Heylen, guitar player Bert Vervoort, and drummer Vincent Verstrepen were summoned to complete the band, and it didn't take long until the chemistry between this quintet hit critical mass.
The Belgian's first EP offering, entitled 'Cemetery of the Insane', was released upon the masses in 2015 . Tracks such as "Explosive Cadavers" or "The Rituals of Flesh" take you back in time to the better days of shredding riffs, neck-breaking drums, and skull-crushing guttural vocals.
The live rituals that followed were executed with stone cold merciless aggression.
CARNATION delivered their bloodbath at select festivals across Europe during 2015 and 2016. Their next journey led them to distant Asia for their first tour across mainland Japan. This resulted in the infamous 'Live at Asakusa Deathfest' album, which saw the light in (2017).
These releases, combined with their reputation as a notoriously impressive live act, drew the attention of fans worldwide and provided CARNATION with the opportunity to perform at several European festivals and saw the band touring alongside PESTILENCE during their special Brazilian tour in April 2018. After signing with Season of Mist in 2018, CARNATION welcomed new and loyal audiences to death's domain and invited them to witness them rise to their throne!
CARNATION rage on in 2019 with more spectacular live shows at 70.000 Tons of Metal, Alcatraz (BE) and Damnation Festival (UK), as part of their touring rampage throughout Japan and Europe (with PUNGENT STENCH and DESERTED FEAR), before entering the studio for the recordings of a brand new album. The mastering for the new offering was done by the mighty Jens Bogren (SEPULTURA, ENSLAVED, ARCH ENEMY) at the Fascination Street Studios in Örebro (SE).
With 'Where Death Lies' a new chapter of abhorrence now begins and opens up a hellish path to resurrection, reincarnation, and immortality. You wanted death? CARNATION is here with a superior appearance performing new rituals in service of ancient deities. All hail the new death metal overlords!
www.instagram.com/carnationbandofficial
www.youtube.com/c/CarnationOfficialBE
CARNATION live 2022
12/06/2022 – Into The Grave – Leeuwarden, Netherlands
26/06/2022 – Hellfest – Clisson, France
02/07/2022 – No Sleep Metalfest – Westervoort, Netherlands
25/07/2022 – Metaldays – Tolmin, Slovenia
11/08/2022 – Party.San Open Air – Obermehler, Germany
12/08/2022 – Brutal Assault – Jaromer, Czech Republic
07/10/2022 – Vienna Metal Meeting – Vienna, Austria
09/12/2022 – Eindhoven Metal Meeting – Eindhoven, Netherlands
---
READ MORE NEWS IN DRAGON FIRE ON SLOW DRAGON MUSIC
---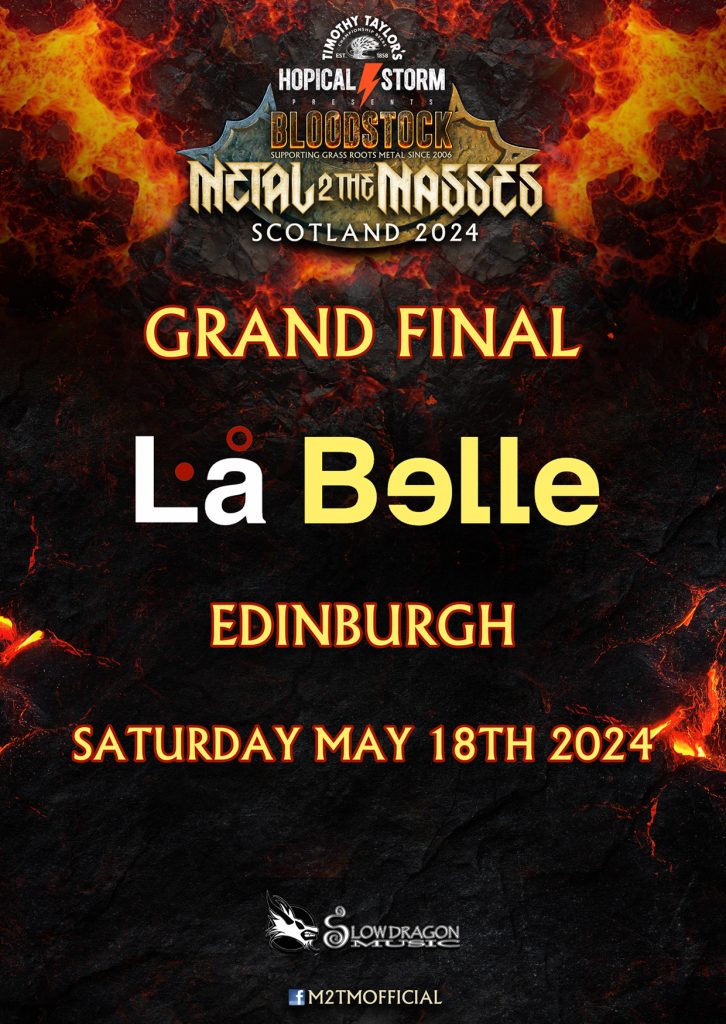 ---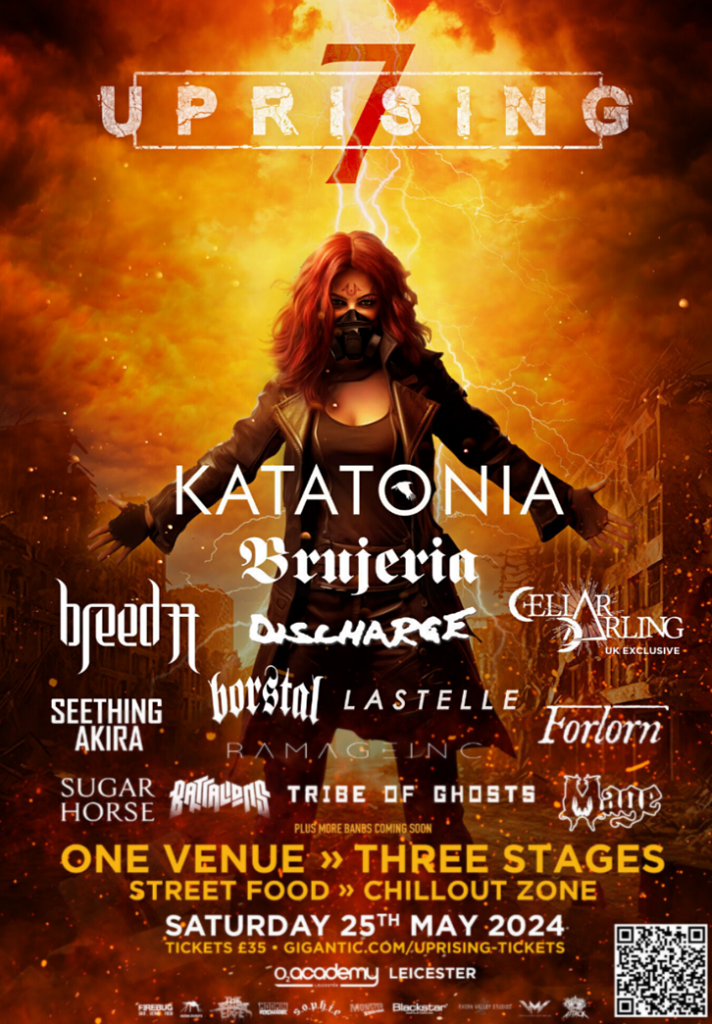 ---
Dragon Fire: Carnation – Stench Of Death new track
---