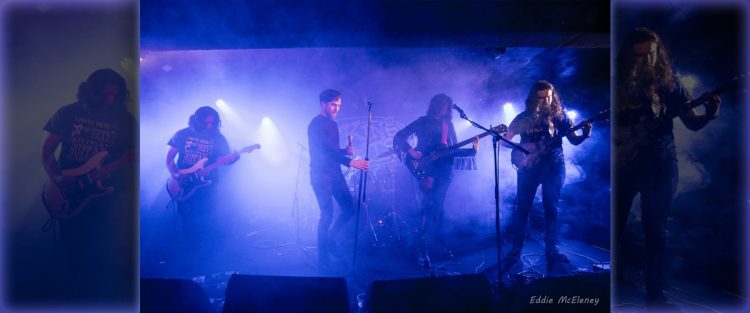 M2TM: Scotland – Out not down!
---
We're almost done with the Metal 2 The Masses: Scotland Semi-finals! The bands who made it this far are all top of their game, but let's not forget the legends who bowed out in the Heats!
Below, we have a recap of no-less-than FOURTEEN acts, who launched their assault with us this year, but didn't quite breach the walls in the first push. We asked them each a short handful of questions, In this article, they briefly tell us what they're about, what they're up to, and their experience of M2TM.  
---
Hannah White – The Rhubarb
---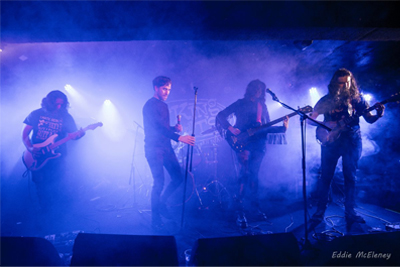 ---
"(We are) stoner, sludge, doom metal. We had a great time playing in Perth: great live sound, great crowds, and fun atmosphere! It was a great experience!
We are supporting Wisconsin legends Bongzilla in Ivory blacks in Glasgow on 29th of April, which we are stoked about, and we have our first album out soon too, eeek! Exciting times ahead!"
---
---
Aaron Yates – Artificial Pathogen
---
---
"Our sound consists of several elements now; ambient, sort of technical riffyness, with some atrociously heavy breakdowns. We loved playing metal to the masses! It was our very first time playing, and certainly won't be our last. Although Artificial Pathogen have been a band around two years, we've only just started playing gigs professionally just before Covid. 1000% we will be back!
So, we're actually working on a lot of stuff just now. We have most of our instrumentals complete for songs, just need to get some vocals done, choose who were using to mix and master our songs, then do some PR and a music video. Hopefully by the end of the year/2023 we would love to be a part of a UK and/or Europe tour."
---
---
M2TM: Scotland – Out not down!
---
Alan, Andy, Paul – Kurnel Fist
---
---
"We are a stoner, groove, doomy, grungy blend of awesomeness! It (Metal 2 The Masses) was an amazing night. We played with 3 awesome bands, in a great venue, and had a blast playing to a crowd we wouldn't normally get to play to.
Would you come back and play it again? "Silly question!"
"We are currently working on recording a 7 track album which we hope to release as soon as possible. As well as working on a lot of new material that has built up over the last couple of years, new merch on the horizon to complement the new record. And hopefully and abundance of gigs."
---
---
Mark 'Fauldsy' Faulds – Concrete Kingdoms
---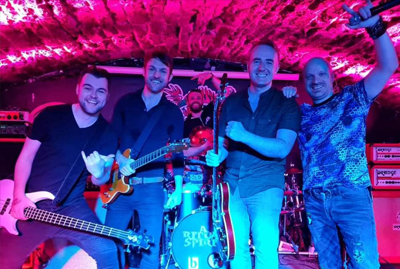 ---
"We are a hard rock/alternate rock band, creating big riff songs akin to Muse, Volbeat, Alter Bridge and Foo Fighters!
How was your experience of taking part in Metal 2 The Masses: Scotland 2022? "It was a great atmosphere to be a part of, interacting with the organiser and other bands participating in the event. So encouraging to see so many upcoming bands playing at these events! The crowd was great too, both in terms of interaction and numbers, really encouraging to see this especially after the COVID years!
We are currently getting together some single releases for 2022, as well as some recording sessions booked towards the tail end of the year! We also have gigs up and down the country from June onwards so keep your eyes peeled on our socials for those juicy details!"
---
---
M2TM: Scotland – Out not down!
---
Aidan Biggs – Atlantic Rift
---
---
What do they sound like? "Metalcore!"
How was your experience of taking part in Metal 2 The Masses: Scotland 2022?
"We had a great time which was made extra special as it was our first gig since before Covid19!"
Would you come back and play it again?
"Of course! And we'll make sure to come back with a bigger and better show than before!"
We have been working on our second EP for a while but it has been delayed through lockdown. However, we expect to release it very soon and will confirm a date on our socials in the coming month."
---
---
Mark Cruncher – Hyperstasis
---
---
"Its a mix Of post metal and post hardcore, with alt metal, with a pinch of industrial and triphop aesthetic. Mostly groovy, low tuned riffs, and funky rhythm section."
How was your experience of taking part in Metal 2 The Masses: Scotland 2022?
"Very well organised gig , full attention to existence in social media promotion, and very good treatment of participating band . No bad word about it , and chapeau bas to Paul for making everything happen"
Would you come back and play it again?
"Yes . Great opportunity to show yourself to audience who normally would know about You . And great occasion to meet new people (bands and venue crew).
We are promoting our latest release "Vol.1" by trying to book as many gigs as we can . There are some plans to do some EU tour(ing) in the end of the year ."
---
---
M2TM: Scotland – Out not down!
---
Steve Simms – I Will Take You Hunting
---
---
""Whitestripes on steroids" was the best description from a fairly unreliable source. We are angry punk / guitar rock with strong lyrical messages and melodies. No widdley guitar solos, just rhythm driven songs with some weird sounds. We love a good laugh, focus on positivity and we don't take ourselves too seriously.
How was Metal 2 The Masses?
Awesome experience. We met some great folk and had a great time. Still buzzing from it.
Would you come back?
Of course. We will play any gig if asked and it was fun.
We are just completing our 2nd album, which is an expanded version of our EP "Don't go to bed mad, stay up and fight all night". Its the distillation of our sound and we are very proud of it. We plan on keeping on, keeping on, as we always have. We will carry on gigging / writing and recording tunes and basically enjoy ourselves. Anything more is a bonus.
---
---
Cameron Laurenson – Vows
---
"We describe our sound as modern yet still raw. Perfect for the listener who likes hearing something to get really hyped, yet brought back down to a calming level! This range gives the band our unique dynamic in the current scene!
Metal to Masses gave the band a good bump in exposure getting to show our debut album to a wider audience!"
Would you come back and play it again?
"Yes, we would, as it is a great opportunity for bands like us, who don't have the support of a label/promoter.
We are planning to show as many people as possible our debut album "What's Makes Us whole", by performing shows across UK! New material is in the early stages of work, and we anticipate having some fresh material to show everyone in 2023."
---
---
M2TM: Scotland – Out not down!
---
Russel Kemp – Marobaki
---
---
I'd probably say we're a metal band with black and progressive elements. Our drummer Bogdan says we're 'party metal'. I suppose it might be a good thing that even the guys in the band take different things from our sound and find it difficult to categorise easily.
We had a blast playing at the Edinburgh leg! It was a very enjoyable evening with a great turnout and atmosphere. It was only our second gig as 'Marobaki' so we tested out a few things which we thought would add to our performance. We'd be thrilled to play again.
We've just secured a permanent rehearsal space at Tennant Street Studios so that kind of consistent space should make a big difference for the band going forward. In the immediate future we'd like to record a song or two professionally and our next gig is lined up for the 30th April at the Purple Cat in Leven.
Honestly, I'm just stoked to be back playing music and being in a proper band again after everything that happened in 2020/2021. I feel like there's a lot of lost time to make up for. I'm up for the challenge though and it's a great group of lads I'm playing music with.
---
---
Ross Sloan -The First Gentlemen
---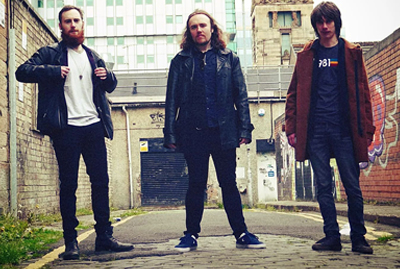 ---
"We are a progressive metal/rock band, we've heard ourselves described as if Rush had a baby with The Foo Fighters and was raised by Alter Bridge (with Metallica as the fun uncle!).
We had a great experience (taking part in Metal 2 The Masses)! Was very professional and everyone was incredibly friendly and welcoming. We appreciated the fact that the promotors managed to get a packed venue so that as many people as possible could check out all the acts.
Would you play it again?: Definitely! It was a great learning experience for us as well as an overall great night out with fellow metalheads!
We have just finished writing, and are currently working on recording, our next album. The recording will be completed mid April and we will be producing it ourselves. After that we will be spending the next few months planning a promotional campaign and live shows to go along with the album which will release towards the end of 2022, so stay tuned for that!"
---
---
M2TM: Scotland – Out not down!
---
Greg Rankin – Lethal Tender
---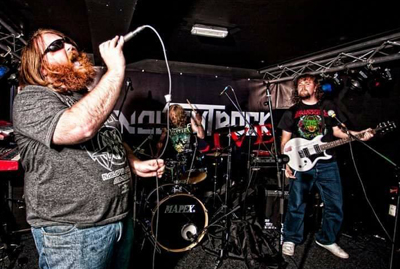 ---
It's quite a mixed bag, most of our back catalogue you would class as classic rock with a heavy twist, but with our new stuff we're really hoping to push the boundaries with genres and be much more experimental with our sound, still with good heavy riffs being the main factor.
(Metal 2 The Masses) was a great opportunity to network with other bands, and see their performances for the first time. I've entered the competition before in a previous band, and when I found out it was due to take place in Bathgate it was a no brainer. We would come back to play again. We had a great time performing.
Due to having hectic personal lives, we're doing the band on a part time basis; just a few gigs a year. However, we are looking to record new music, aiming to have at least a single out over the summer, with a music video to go with it. The aim is to have a new EP out by the end of the year. Gig wise, we are playing Bathgate again on 25th June at The Purple Orange, and will perform at this year's Party at the Palace in Linlithgow on 13th August.
---
---
Stephen Paterson – Dolarhyde
---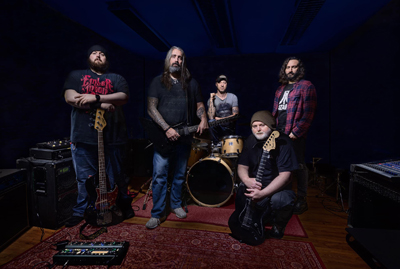 ---
What's their style? "Our sound is quite grungy rock…"
"(Metal 2 The Masses) was awesome! As it was our first gig, it was daunting, but the venue crew ,Paul at Slow Dragon, and the other bands made it very easy for us. Definitely, we would love to come back and play it again! We are releasing our new EP very soon, and will have gigs around the release and throughout the year"
---
---
M2TM: Scotland – Out not down!
---
Jonathan Park – Ray Brower
---
---
Please describe your sound for people who might not have heard or seen you before:
"This has always been a hard one to answer – we don't really sound like anything in particular.
The Closest thing to it would be Nu-Metal."
Tell us about your experience of Metal 2 The Masses
"The event itself was great fun. You would expect some sort of animosity amongst bands. However, at the Aberdeen heat everyone was there to support each other – regardless of the outcome. Slow Dragon Music did an awesome job keeping us updated and made sure we had everything we needed to play and promote the event. We would definitely come back and play it again!
Over the past few years we've been working on some new tracks which we have been playing at our live shows. Due to some line-up changes this has been held up somewhat. However, now that we have a strong line-up the plan is to now finalise recordings of these songs with artwork etc.. and distribute them once we have brought everything together."
---
---
Lewis Wise – Royal Bloom
---
---
"When first hearing us, I'd say high energy grunge. But there's many layers to our sound. Thick bass lines, bold drums and complex guitar melodies. All of this is in contrast to our self-reflective and pretty vulnerable lyrics. 
(At M2TM) there was a lot of energy in the room, from both the bands and the audience. There was an enthusiastic crowd, and we had a good laugh with the other bands. The sound engineers really catered to us, and made sure we had the best sound. We feel we played a great show, and everyone seemed to have a fun night – which is all that matters to us at the end of the day!"
Would you come back and play it again? "If they would have us, we absolutely would!"
"We are currently finishing off our debut album, which will be out within the year. Along with this we've been gigging a lot, and supporting some incredible international bands."
---
---
M2TM: Scotland – Out not down!
---
So that's them! The fourteen bands who played Metal 2 The Masses: Scotland 2022, but came out in the heats. Honourable mentions are also due to Kakihara and Slabrog, who both had to cancel due to covid. Every single one of them has something great to offer, so please do make sure and check them out.
We'll be back at it very soon, with the Glasgow Semi-final just this Thursday, featuring Deadfire, Alpha Signal, Wild Fire, & The Head Of The Traitor. After that, it's onwards to the Grand Final at La Belle Angele on Sunday May 01st. We already have three of the finalists locked in; Drekavac, Certain Death, and Catalysis. Two more are to be added, one winner from Glasgow, and the top runner up from all four Semi-finals. Check below for tickets to both events!
---
Glasgow Semi-final: http://t-s.co/met22
Edinburgh Grand Final: http://t-s.co/met23 
---
Read more about Metal 2 The Masses: Scotland on Slow Dragon Music
---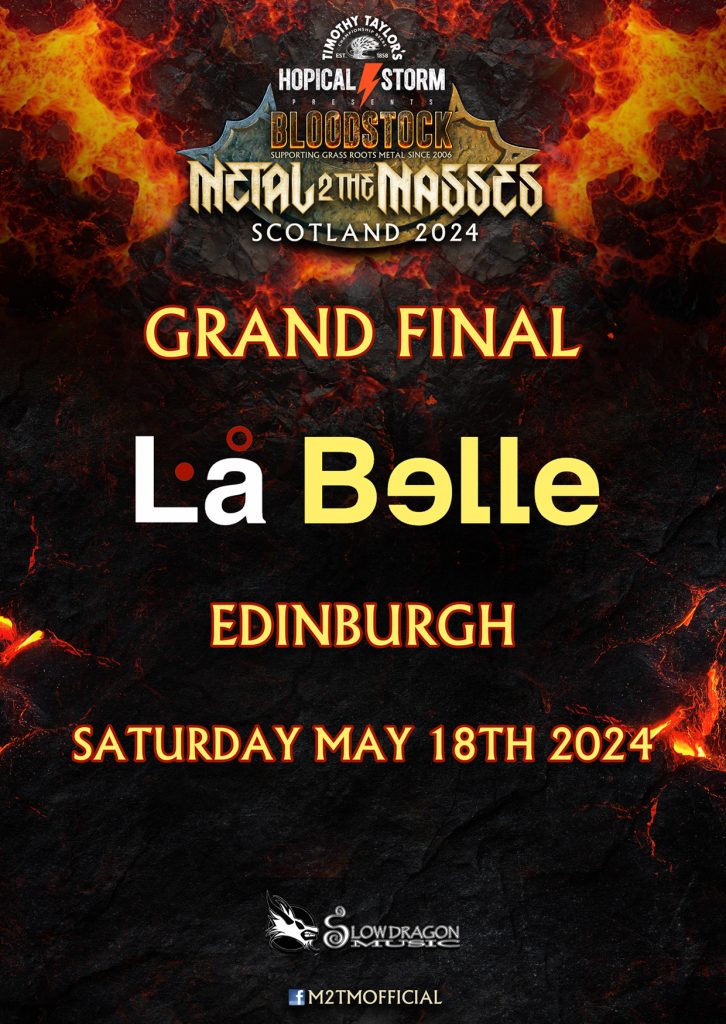 ---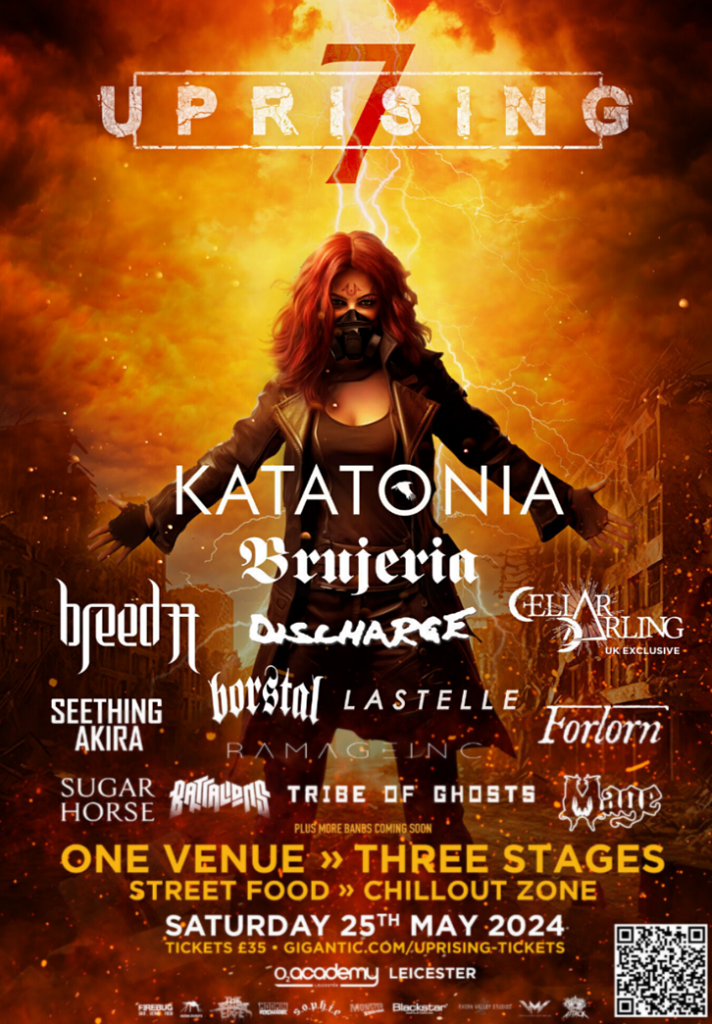 ---
M2TM: Scotland – Out not down!
---