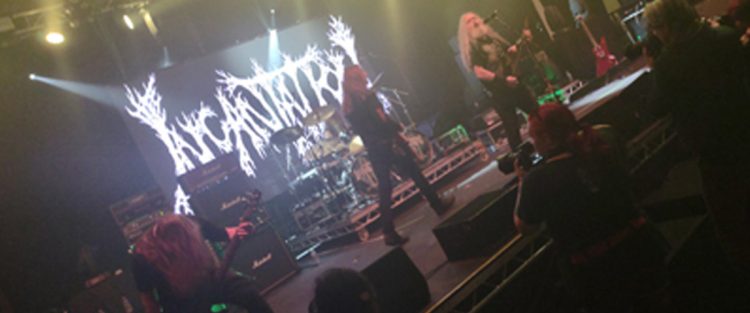 Damnation 2022 wrap
---
Last month, Slow Dragon Music made our first foray into the legendary Damnation Festival, for a mighty blast of the good old heavy heavy stuff.
For over 15 years, the organisers have been bringing the north of England this beast of an alldayer. However, 2022 represented something new for them as well. This is the first time the event has been held at the (massive) Bowlers Exhibition Centre in Manchester, and what an absolute victory it was. We heard they doubled their attendance of previous years, to 6000 riff-hungry lunatics! That is some achievement, we think you'll agree. With three stages running fairly constant sets, we couldn't catch everything, but here's our "wrap" article of our time at Damnation 2022!
---
Words: Sapphire Sherwood AVZD
Editorial: Slow Dragon
---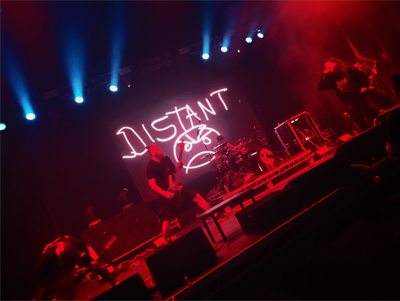 ---
Midway in their tour with co-headliners, Despised Icon and Decapitated, alongside Oceanio and Viscera, (the latter, sadly absent today), Rotterdam's Distant slammed us into consciousness on the Holy Goat Stage with some downtempo deathcore. A far travelled South American / American Irist were first on the Pins and Knuckles stage to a near full arena. The gloomy, "grim up north weather" didn't put off the congregation who were in early attendance.
Pounding drums from Jason Belisha broke through the storm and made you want to drop and find cover, alongside fellow Atlantian, Adam Mitchell's stirring guitars.
Iris's new EP "Gloria" was released by Nuclear Blast only weeks ago, and its hard to imagine that it was only two years since we first heard "Order of the Mind", which still led most of today's set. First tour too! A month and a half on the road with fellow Damnation acts, Stygian Bough and Pallbearer, Irist bring an honest, and assertive contribution to the festival; humble, happy to play with bands they grew up with, and definitely someone we'll be seeing a lot more of.
---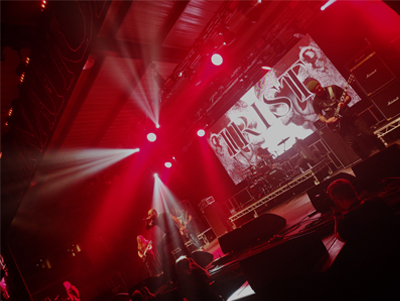 ---
Alongside fellow tourers Distant's deathcore opener, Illinois' Oceano played the Holy Goat stage for their last UK date of their European tour, before heading swiftly off to Paris. An atmospheric and eerie vibe loomed over the packed out room, as they began with some new songs in the first half. 2022's Mass Produced was a obvious crowd pleaser, as a wave of outstretched horns guided proceedings along to some much loved, older offerings in the second half.
---
Damnation 2022 Wrap
---
After a sold out London show, a well deserved day off in the Lake District was had, and Toulouse's Bruit are energised, and ready to bring their modern classical rock / metal twist to the Eyesore stage.
A landscape of drums trips over haunting strings, immersing the audience through something quite special, as the band prominently play songs from last years "The Machine Is Burning And Now Everyone Knows It Could Happen Again". If you ever find yourself in the Lakes, on a cold misty night, staring at the stars, mind floating through space and time, then this, my friend, is your soundtrack.
---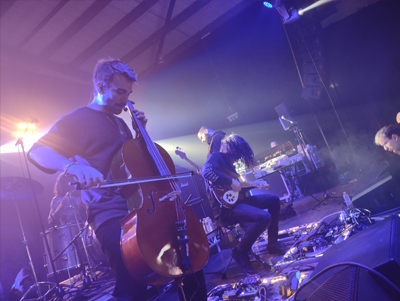 ---
Having caught them earlier in the year at Wacken, we knew what Season of Mist signed, Austrian Thrashers, Insanity Alert, would be serving up, and they didn't disappoint. Vocalist "Heavy Kevy" Stout jeers the high-octaned crowd, and introduces the first circle pit of the day at the Pins and Knuckles stage. The set included Chronic State Of Hate, Run To The Pit and crowd (dis?)pleaser (-SD), I Come, I Fuck Shit Up, I Leave.
Changing up the pace, Stygian Bough – the project between Bell Witch and Aerial Ruin – take on the Holy Goat stage with haunting doom offerings.
Alongside their tour buddies Pallerbearer, Elder and Irist, the band complete their European dates with Damnation as their finale. Sending wave after wave of thick, thunderous tones, Stygian Bough's set continues to echo amongst the crowd well after they have departed.
---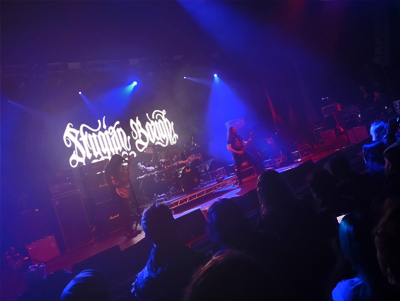 ---
US, east-coast grindcore mob, Full Of Hell, return the circle pit to a hungry audience on the Pins and Knuckles stage, as they end 2022 touring throughout Europe, before embarking on what's shaping up to be a hefty US tour early 2023. Crushing vocals from Dylan Walker journey through 2017's "Trumpeting Ecstasy", 2019's, "Weeping Choir", and last year's "Garden of Burning Apparitions".
---
Damnation 2022 Wrap
---
"Hello Damnation! We're Incantation and we're here to kick your fucking ass".
Fellow Sherwood, Chuck's bass pounds out to a throbbing throng, as NY associated death metallers, Incantation, pummel their way through their triennial of blasphemous death metal. Original member John McEntee leads the sludgy depths as always, and has plenty of time to talk with fans after the show. A true gentleman.
---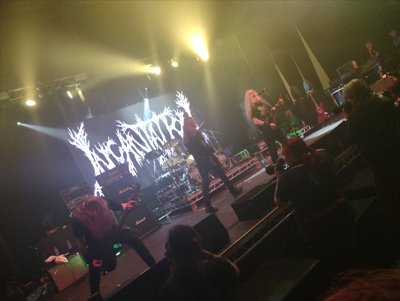 ---
Virginian bred, legendary veterans Pig Destroyer played the entirity of twenty-one year old (wtf?!), twenty-two track "Prowler in the Yard" to a packed out Pins and Knuckles stage, with the opening gory/cute-as-a-button monologue of Jennifer. Continuing to swallow up the crowd early on with my personal favourites Cheerleader Corpses, and later still with Sheet Metal Girl to name a couple, it's a true honour to witness grindcore at its purest, and still hungriest!
After a quick march back to the Holy Goat stage, Washington's Wolves in the Throne Room have already emerged amongst a thick mist of sage and sweat.
The brothers Weaver, alongside Kody Keyworth, play a similar length set to their predecessors, yet this is a landscape of four, ten-minute plus unapologetically Scandinavian influenced, heavy, black metal anthems.
A brief encounter with the ever popular Green Lung on the Eyesore stage see's yet another packed floor. The Londoners fuel the crowd with their symphony of new and old style, honest metal sounds. It's easy to see that their incredible 2022 is sure to push through to the new year, too.
---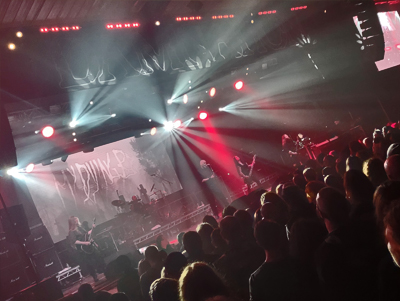 ---
My Dying Bride are classics! They are playing to a full audience, as we briefly catch them on the main stage, on our way through for Misery Index. Half the set goes by far too quickly, and Aaron Stainthorpe can see it across our faces: "We've got one left…don't worry it's a classic". A cheeky smirk is felt, and "Turn Loose the Swans" begins and concludes.
Little Rock's Pallbearer play an impressive five song set over their fifty-five minute stage time on the Eyesore stage.
This is the last date of a several week tour, and, as we all agree, we "can't think of a better way to spend it". "Forgotten Days" starts the proceedings to what, by the end of the song, seems to be yet another full capacity stage. The crowd surges forward as the all-consuming opening bars of "The Ghost I Used to Be" engulfs us all into their depths, and all sing along, only fueling the waves. "Silver Wings" and "Caledonia" follow, making us damn certain that Pallbearer have us in their clutches, and there's now way out of their doomy depths. Captivating, and exhilarating, I feel bar takings were down this set, since the audience's gaze did not falter as we ended on "Given to the Grave".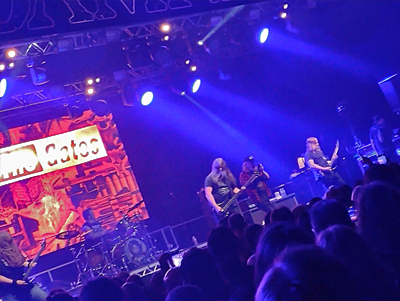 ---
At The Gates struggled with the sound in their opening, (no fault of their own), before Tomas "Tompa" Lindberg seemed to have enough, and cranked it up a gear to a fully packed crowd and then some. As promised, Slaughter of the Soul was played in its entirety, and "The Night Eternal" was my own standout throughout the set. Listening to the Gothenberg stalwarts is always enjoyable, and a genuine Hygge experience in my book.
---
Damnation 2022 Wrap
---
Time split between Elder and Decapitated hits hard.
With their thick mind-warping groove metal, Elder carefully carry tipsy heads to another plain, and their loyal fan base chant out. All feels well in the world. Not wanting to miss all of Decapitated, though, we float through the hall on Elders distancing riffs to be, well, quite frankly, slapped in the face by a wall of familiar death metal.
---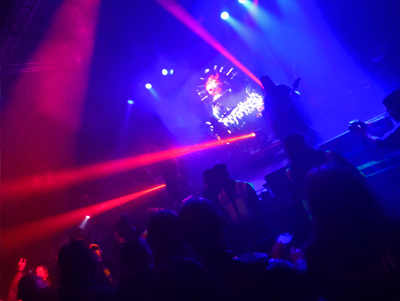 Last but certainly not least, Salem's Converge enter the arena to play another 2001 album in its entirety, "Jane Doe". It takes up the majority of the set, running at a little over forty-five minutes. "Concubine", of course, opens proceedings, ending in the title track, before the band return for an encore. The crowd are left bloodied, sweating, and hungry, as we spill out into a misty industrial park having being completely, and willingly decimated by the hardcore punk/metal legends.
---
And there you have it! That was our first experience of Damnation, and it has to be said, it was a pleasurable one. With "blind-bird" tickets for 2023 in the same venue already on sale, this is a recommended venture for metalheads of discerning taste. A huge well done to the team behind it for taking things to the next level!
---
---
READ MORE ARTICLES ON SLOW DRAGON MUSIC
---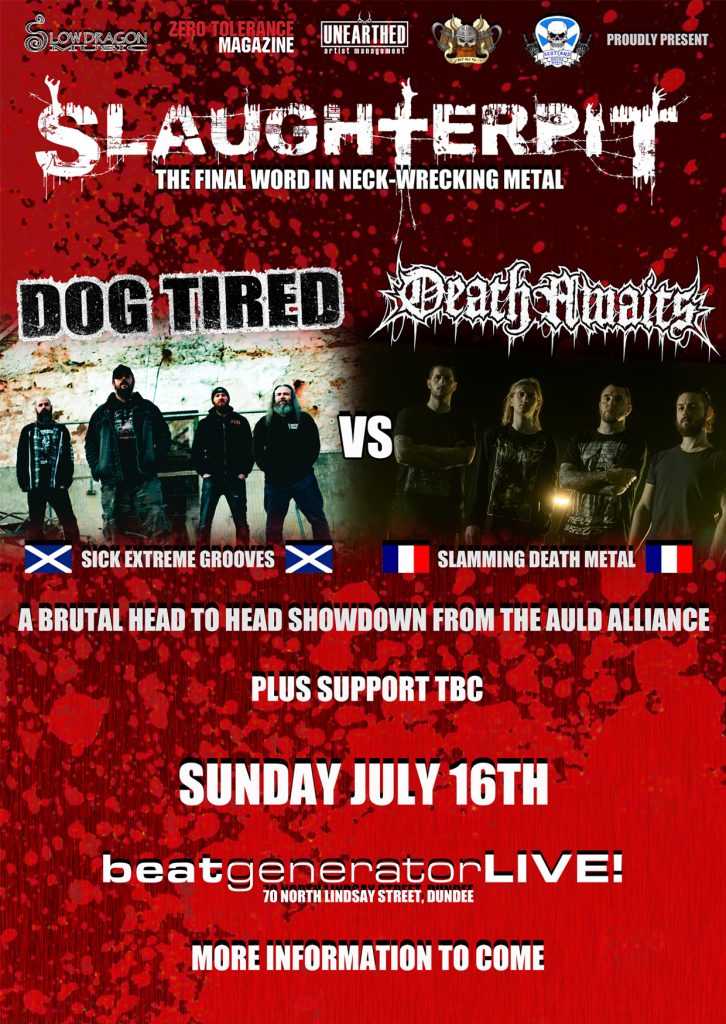 ---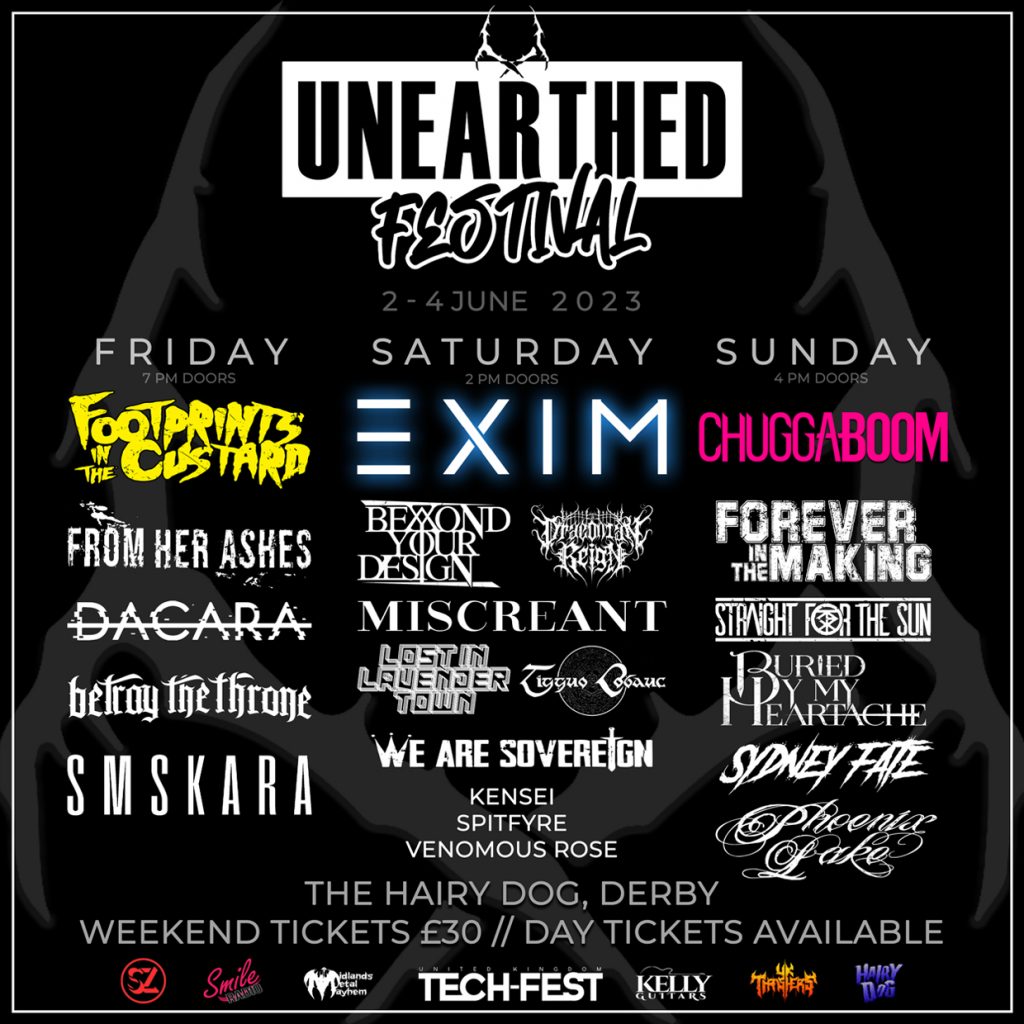 ---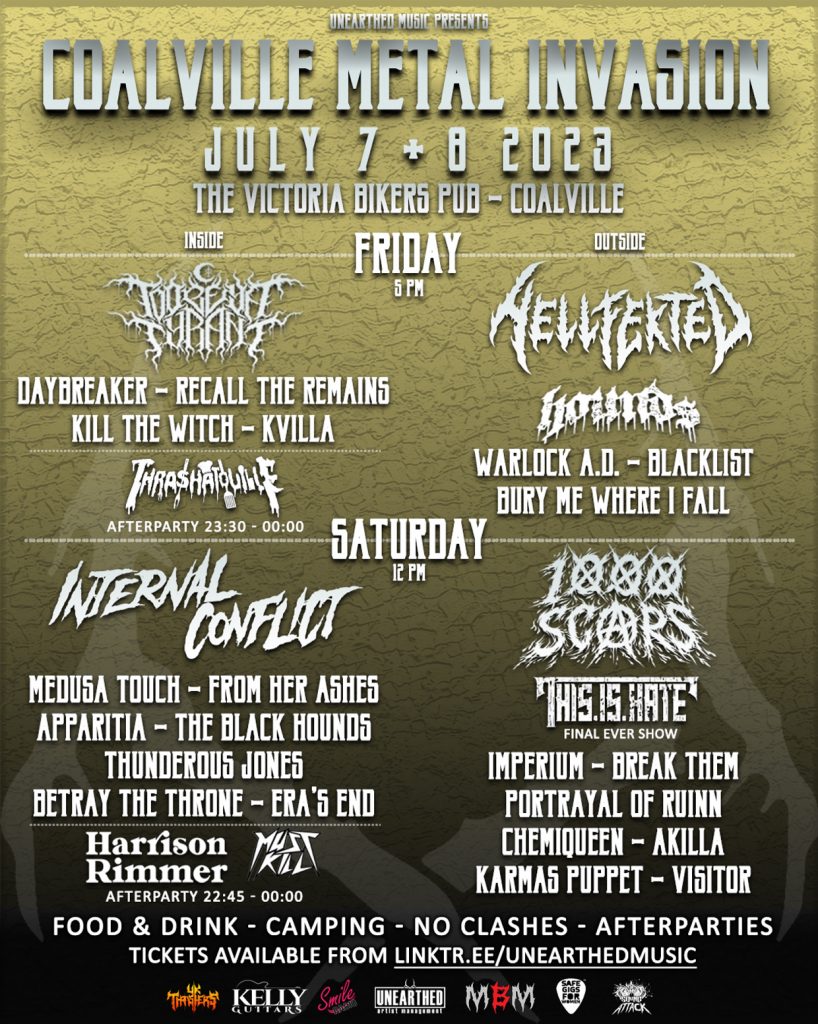 ---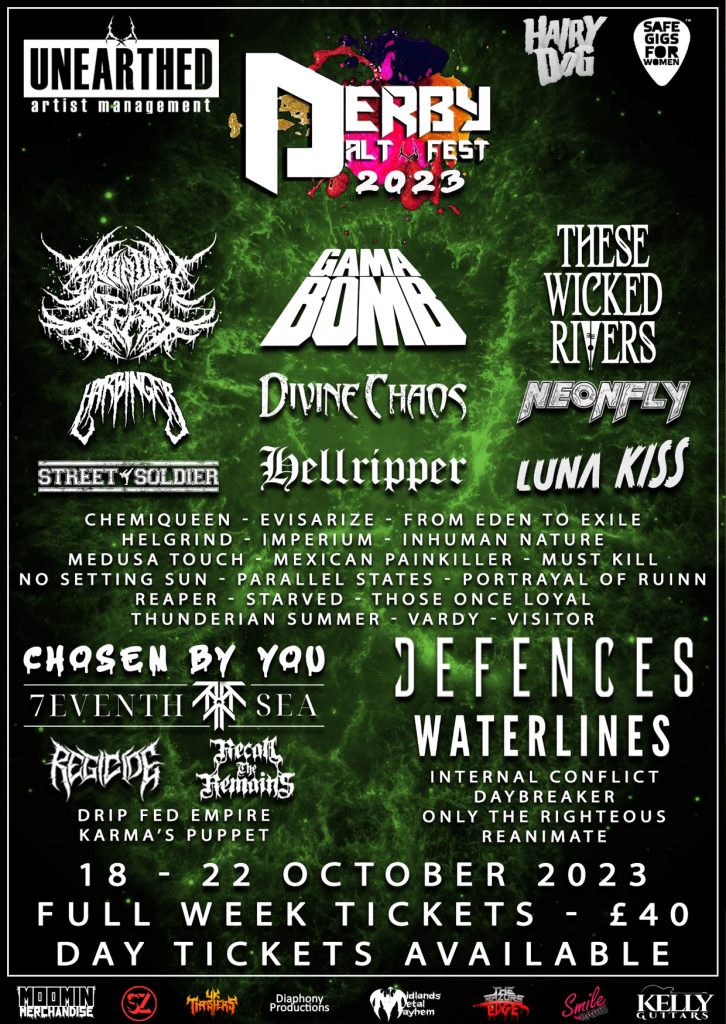 Damnation 22 Wrap