Volcano X & Masonic Abyss (interview)
Dundee has had its ups and downs in the heavy music scene over the years.
At one point, it was a veritable hotbed of new talent for the genre, and, more recently, was proclaimed the UK's most metal city on Spotify. Of course, we wouldn't miss an opportunity to mention it is also home to Hordes X! Bands are slowly starting to emerge in the area again, though. Some are created from the remnants of past acts. Two such projects are Volcano X & Masonic Abyss, both featuring the vocal talents and character craft of one Norrie Davison (aka Johnny Steel/Serotonin). Slow Dragon Music gathered his personalities, to see what he thinks of the state of his local scene. Is it on the up?
Norrie Davison: I don't know how to answer that question, to be honest. No, I guess… It feels harder than ever to engage an audience. Probably because we are all middle aged, with families, jobs, and responsibilities, so the majority of our friends are into early nights and their children, rather than gigs and beer. It's hard to stay relevant and engage the current generation. You have to be active on social media constantly, or people forget about you at the drop of hat. That's how it feels anyway.
Before the pandemic hit, Norrie was getting quite active with his Johnny Steel persona and Volcano X. We had to ask if they had a good home crowd building up, or if they fare better further afield.
---
Volcano X – The Sacrifice (EP)
Release date: 17th July 2020||Genre: Metal||Label: Self-released
Dundee's old-school metallists, Volcano X, got back in our ears this summer, with The Sacrifice.
Still taking their lead from the classics of NWOBHM, and its rockier US counterparts, this new ep holds together with greater fluidity than VX's former output. That said, it has a variety surprises within those confines. It also comes with a harsher bite, and a more serious overtone. The riffs and song structures never seem to lag at all, lending a professional edge which would see them do well on the wider European stage.
Grade: A
Slow Dragon
---
ND: We have a handful of loyal fans in Dundee, and we really appreciate that.
You really have to grind to get people to come to gigs, though. They don't make it easy, as it was when we were all in our 20's. I miss the days of flyering the town with a 100 posters and flyers, and then 200 people turned up. But we can't be young forever.
I think we do better further afield. We make a good first impression with people, and that keeps them coming back. When we come to town, it feels like a novelty to a new audience, so they don't want to miss us. I feel it's best to play your home town 2 or 3 times a year, so that keeps people interested and wanting to see you, rather than playing every week, so they can see us when ever they want. You have to build the anticipation and make them long for you and your live show.
Even before things went sideways, VX already had quite a strong approach to staying connected with listeners online, through videos and playlists. It seems like this has provided some strong foundations for when everyone was inevitably forced online for all musical interactions.
ND: Yeah, social media is how the industry works these days.
And you constantly have to apply yourself to stay relevant and be heard. Creating continual content keeps fans engaged, and helps to build an audience. Bands aren't just music, now. They are entertainers in every form and fashion. People also like to get to know the people behind the music. It really helps build a connection. And the people feel like they are on a level with you. Although, I preferred the days of the mysterious aura of the "Rock Star", but I'm Just showing my age again.
As such a strong believer in these auras, as he terms them, Davison not only embodies the Johnny Steel character in VX, but the more sinister and serious Serotonin, the vengefully macabre face of Masonic Abyss. Happily, he is willing to open the door to this other world a little wider:
---
Masonic Abyss – Music For The Void (album)
Release Date: 29th March 2020||Genre: Goth/metal||Label: Self-released
Industrial meets proper, classic metal in Masonic Abyss, the one man project of Serotonin (Norrie Davison/Johnny Steel).
While he carries over some of the vocal character one hears in Volcano X, Music For The Void is flooded with his personal love of all things goth. Marilyn Manson and Nine Inch Nails seem to get special attention. Compared to debut, Music For The Apocalypse, though, time served in VX has caused more metal to seep into the music, if not the personality of the project.
Grade: B+
Slow Dragon
---
ND: So, Masonic Abyss is Goth Industrial Rock. I'm just a big Goth / Emo at heart. The name is conceptual. The world is run by the elite, those in power, secret societies, free masons, etc. But what would happen if that power went too far, and they started fighting with each other? What happened if one of them pushed 'the big red button', and launched the nukes? The result would be a barren desolate wasteland; a Masonic Abyss, if you will. This is the mindset. This is the story of the 99% vs 1%. Those that abuse us, and their power.
10 years ago Masonic Abyss was a fully functioning band. Now it is purely a studio based solo project I resurrected for myself.
I have always been the head honcho, the dictator, the sole writer of all music, creative direction, and imagery. I love to have that outlet to create music on a level of my own ability on all instruments. I spent 2 years with a good friend, Thomas, creating the first album, while he learned to play bass. He helped me with recording, showed me the wonders of synthesizers, and we also bounced ideas back and forward off one another.
I look back on that period very fondly. We then found friends that would act as live musicians to play the songs with us. Marilyn Manson made me fall in love with music, so I'll always have a passion to create music in this genre. I saw the band Deathstars in 2006, and they made me believe I could write music like this on all instruments.
Currently, I have two albums – 24 tracks in total – on all digital platforms, and 1 music video for the song 'Sick Sick' on YouTube. All music is made from my home studio. I'm currently working on a new song / music video called The Hive Design so keep an eye out for something new coming soon.
It sounds like a fun, if grisly, concept, and certainly something out of the ordinary in the region. But is it likely he'll ever take it further? For example, returning to a full band or playing live?
ND: Maybe… It's very hard to find people that want to paint their face, create a character, and dress that way on stage. You have to go for it, and commit, otherwise it doesn't work. If anyone reading this is interested send me a message.
I'm fully content with it being a studio based, one man band type of project for now. Painting my face up in private, and having that uninterrupted freedom to explore the character of Serotonin that you see in the music video, is not constrained by time limits or social anxiety. It's very important for me to create a character and separate it from the real me.
Serotonin has a very extreme, aggressive, violent, and psychotic persona. His morality is black and white; there is no middle ground. He likes to play with knives, and hold up a mirror to those that abuse the weak, and turn that hatred back on them. This can be explored and expressed in a number if different ways in a music video. I'm not sure how comfortable I would be bringing that back again to a live, public forum. Perhaps he is best kept at safe distance on screen. Demons are not to be messed with.
Perhaps. Perhaps not.
At a time where 'the world needs heavy metal' – as Volcano X's light-hearted catchphrase goes, maybe the masses could also benefit from some vicarious exorcism. One thing seems sure. There's still metal life waiting to be uncovered in Scotland's City Of Discovery, with Volcano X & Masonic Abyss playing their part. (If you want to find out more about bands in this area, we recommend Catalysis, Solar Sons, Immortal Omen, and, of course, Virus!)
Read more Slow Dragon Music reviews
Read more Slow Dragon Music interviews
---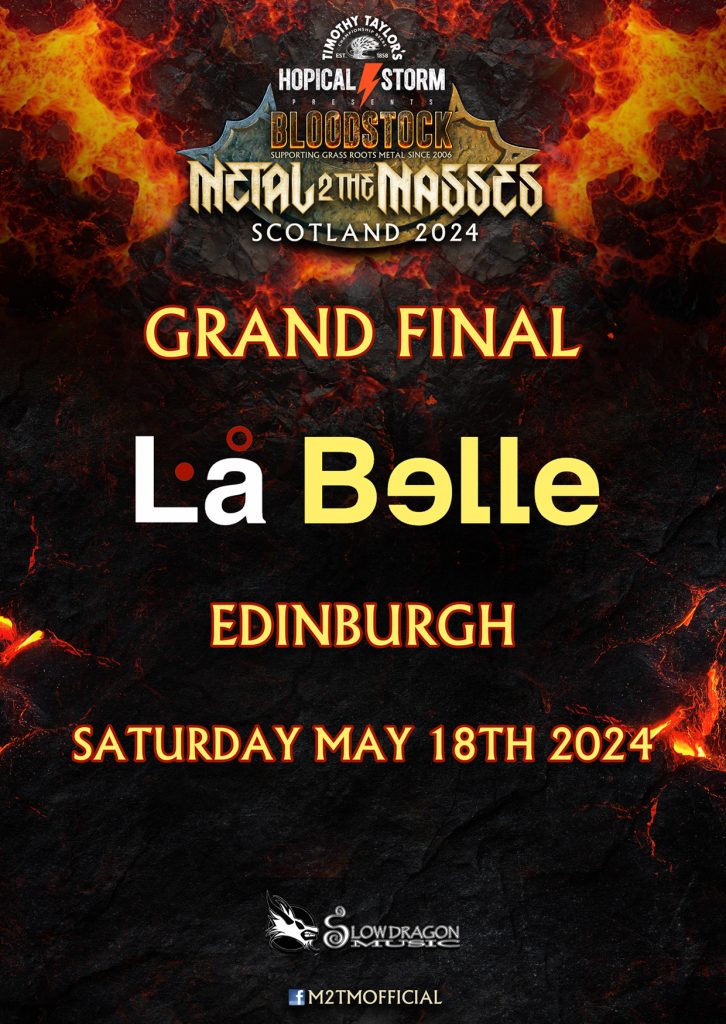 ---